The title is seemingly unfitting. But hang on, I'll explain it later.
note: This is not a movie review, so don't expect to read anything very constructive and critical
(hohoho, I'm so sorry that I'm so biased when it comes to choosing images ㅋㅋㅋㅋ)
Just finished watching Hunters (2010) and I'm torn between loving the movie and feeeling a little disappointed.
After losing his job at a scrap metal yard, Kyu-Nam (Ko Su) finds a new job at a small pawn shop named Utopia. He is immediately drawn to the family atmosphere at Utopia, working with his new boss Jung-Sik (Byeon Hie-Bong) and boss's daughter Young-Sook (Jung Eun-Chae). Unfortunately for Kyu-Nam, his moment of happiness will only be fleeting.

Cho-In (Gang Dong-Won) lived through a brutal childhood. He has had to use a prosthetic leg since an early age, grew up with an abusive father and lived with a mother who at one point attempted to kill her own son out of despair. Cho-In also possesses an awe-inspiring supernatural gift. Cho-In can control other people's minds when they are within his field of sight.

One fateful day, Cho-In walks into the Utopia pawn shop to steal whatever money exists in the safe. Not expecting much resistance, Cho-In is surprised to find one man at the Utopia pawn shop is able to break free from his mind control abilities. That man is Kyu-Nam. Cho-In then resorts to killing the owner of pawn shop to make his escape. All of this is captured on CCTV.

An epic battle will soon occur between these two people with supernatural abilities and nothing to lose.
That's the basic storyline. [SPOILER] The reason and origin of both their supernatural powers were never explained and the character of Cho-In is underdeveloped. It's maddening to see such a potentially interesting plotpoint missing, and perhaps that is the main reason the movie didn't have much of an impact on me. Because I don't feel for the characters.
Don't get me wrong, the movie is a good thriller and I appreciate the awesome cinematography and how they didn't resort to cheesy CG to depict the mind control. The ending scene is mind-boggling though, I'll appreciate any enlightenment on what is that supposed to mean. :/
I watch the movie for 2 reasons:
1. Kang Dong Won
2. Enes Kaya and Abu Dodd (who plays the 2 foreigners working with Kyu-Nam)
Kang Dong Won
*squeals like a fangirl*
I'm a huggeeeeee fan and my most favorite works of his to date are Maunday Tuesday (우리들의 행복한 시간) and The Taoist Wizard (another potentially awesome but slightly undeveloped).
Dong Won is effective as Cho-In and I'll appreciate the character less if played by a lesser actor.
And.. The kid who played young Cho-In!!!!! OMG. The striking resemblance to Kang Dong Won caused quite a stir. Especially the eyes! Which was an important plotpoint in the movie. I wondered how they found the kid. Awesome casting. Was interested so I digged alittle more. The original boy casted was actually his older brother (양현모) but because he grew 10cm from the casting to shooting period, they decided to go with his younger brother (양경모) instead.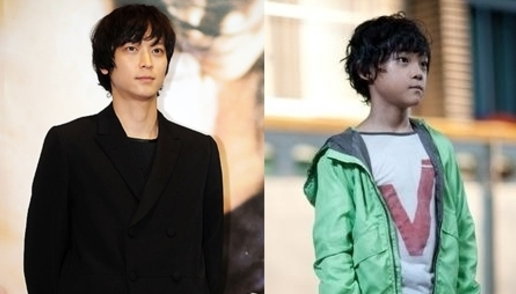 Here's a photo of the two brothers. I think the younger brother is a better choice too (: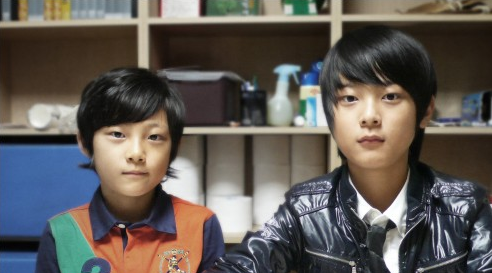 Enes Kaya and Abu Dodd
My jaw totally dropped when they started speaking Korean. At first I thought it was pretty random for the movie to include all the foreign workers in the junkyard, but it turned out that there were very important minor characters. Total scene stealers, with their perfect Korean accent and natural acting. I don't care if the movie is scripted (it obviously is), but it's amazing to hear and see two very very foreigner-looking people speaking Korean slang in that perfect intonation, stress patterns, facial expressions etc. I think Korean is much easier for Asians and.. to see someone from Turkey and Kenya(?) speak such fluent Korean? – Mind blowing. Most of the foreigners in Korean movies and dramas (especially!) can't act for nuts and when forced to speak Korean, most of them sound horrible. The only exception I can think of now is the Caucasian who played the gisaeng's teacher in Tales of the New Gisaeng.
This is so cute! 😀 This movie is upped a notch because of them.
So.. after going on and on,
I'll still say Hunters is a movie that is worth watching and it's a good blend of comic relief, thriller, action and perhaps add a tiny tiny bit of love story to it. (:
The cinematography and use of brilliant lighting, color contrasts etc, Kang Dong Won, and the two foreign actors more than covered up the flaws behind the story.