I have reviewed several online Korean-learning resources and many other textbooks, but for some strange reason, I have not reviewed Talktomeinkorean.com. I guess it's such a familiar name to all of us Korean learners that it's probably hard to find anyone (who is learning Korean) who has not heard/used the site before. 😀 And it's so awesome and popular, I didn't see a need to recommend it. Since it's so familiar to most of us, I'll keep things short!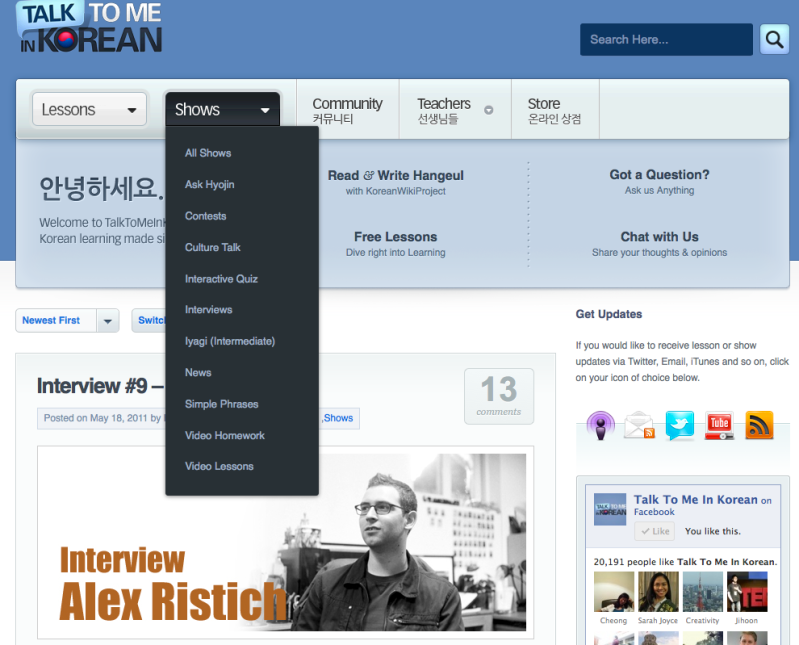 CONNECT with the audience.
Talktomeinkorean is an online, interactive site teaching Korean and it's suitable for everyone, particularly those in the beginner – intermediate stages. Notice the highlighted word. We often come across sites that claim to be 'interactive', promising fast feedback, answering queries and interaction with the users. However, TTMIK is possibly the only language learning site that really delivers what it promises. The reason why they are so popular is possibly because of how they connect to the audience and site users. The teachers make learning Korean 10 times as fun, and it puts a human touch to the site.

CULTURE
Loads of effort is being put in to ensure that the content is very accessible to the audience and nuggets of Korean culture knowledge is inserted into the lessons, making the content much more appropriate and fun. What sets them apart from other learning content is how applicable the knowledge is. You don't get boring conversation that you see in all language textbooks and the phrases you are immediately applicable to loads of common situations.
Use of NEW MEDIA
They are everywhere. Facebook, twitter, tumblr, dailybooth, youtube, blogspot, naver etc etc. All these are just one account of each of the social networking sites. Add up all the official site accounts and accounts of the individual teachers… xD
P.S. Personally, I sort of lost count of the number of sites / blogs / social networking tools that hyunwoo oppa is on.
But this is how they connect with us, making all the language learners feel that they are just a click away.
—————
The site started when I was past the intermediate stage, so I did not use it as frequently as I hoped to. However, I do love the iyagi and the interview series (:
TTMIK truly sets the standard for how an interactive language learning site should be and I'm glad that all of us have such great teachers to make our Korean learning journey even more fun and fulfilling! 😀